Frank S. Todd Memorial Fund
Frank Dodd created and organized the very first ASA conference. For many years he arranged for speakers from around the world to present exceptional talks and educational material.
The Frank S. Todd Memorial Fund helps the ASA continue in Frank's footsteps by bringing the most renowned avicultural speakers to the annual Education Conference so that they can share their incredible knowledge with the attendees.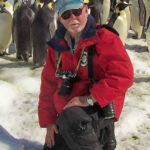 Your tax-deductible donation goes directly to help cover travel expenses so we can continue bringing out top avicultural experts every year. This fund is kept separate from the ASA general operating budget and is reserved exclusively for bringing speakers to the conference. Help us keep Frank's memory alive by continuing the tradition he started.
Check out the November-December 2012 issue of the ASA Bulletin for a look back at the aviculture work of Frank Todd. We also celebrated Frank's memory in a special tribute issue for January-February 2017.